Recovering deleted files from the recycle bin using special software
Sometimes you can mistakenly delete some necessary file. But usually this is not too terrible a problem, because any file is easily restored from the trash. But what if you deleted the file and emptied the trash? This is where the panic begins, although it is too early to panic. If documents, files, important information have been deleted from the computer and even nothing is left in the trash, then there is still a high probability of recovering everything. There are several ways.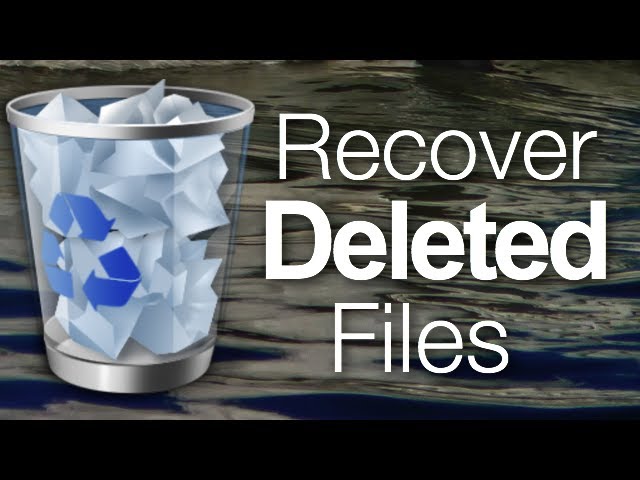 How to recover files deleted from recycle bin?
First of all, you need to understand that any deleted file can be restored exactly until another one is written in its place, on the hard drive. So if a loss is discovered, try not to download anything to your computer, copy or install anything. Otherwise, you risk losing this information forever.
There are two main methods of finding and recovering deleted data that are commonly used. All recovery utilities work using one or two methods at once.
Analysis of folders and their contents
A great way to return data that retains all the basic information in the form of a name, path, and properties.
Applications working on this principle will first of all try to read and process the first copy of the information deleted from the recycle bin. Often this is enough and deleted files can be easily recovered.
In this case, if the first copy is damaged and unreadable, then the utility starts trying to find and read other, possible copies of information about files and their structure.
Based on the results of the detected information, the process of restoring the structure of folders and files takes place.
Search for deleted files by their signatures
This method allows you to recover even more deleted information, but the folder structure, names and other information is not restored.
During the operation of the recovery program, a search is made for signatures, which are template data characteristic of certain files. They are usually located at the beginning and end of the document.
But recovery is possible only when a signature is found. If it is not there, then only an area of ​​​​empty space on the disk will be determined in place of the deleted file. Many "false" positives are possible here, there will be completely different or inoperable files.
Here is a short video on recovering lost files.
Basic steps to recover deleted files
If such a nuisance occurs, then first of all you need to perform the following steps:
open the trash, perhaps the deleted document is still there and you can easily restore it;
but if there is nothing there, then it is not worth writing anything to disk, do not perform any copy and write
operations. When downloading and installing special utilities, do it all on a different logical drive;
check the disk partition for errors and fix them – in some cases this can help;
if the deleted files were on the main, system drive, then it is better to immediately turn off the Internet, otherwise
downloading an update for the system, or any other software, can destroy all chances of recovery;
if there were other important documents / photos / videos along with the deleted files, we recommend copying
them to another location, creating a backup copy on another medium;
install and run the data recovery utility and try to recover the loss.
To prevent such situations, it is recommended to configure the shopping cart as follows:
do not clean up deleted files immediately after placing them in it;
increase the size of the basket;
enable confirmation prompt to delete files.
Conditions under which files can be returned
There are no such programs that could return the lost file with 100% probability. But under different conditions, the chances of recovering a file can either approach this figure or tend to zero. In order for information to be recovered with the greatest success, the following conditions must be met:
The file must be relatively small. With an increase in its volume, the chances of returning it to its previous state are significantly reduced;
no operations related to downloading files, installing programs, copying and recording were carried out with the disk on which the deleted data was located;
after the data was deleted, the computer was turned off and did not boot up again. The best option for file recovery is the use of special bootable operating systems that work from removable media;
The file system of the disk partition was NTFS. If FAT or any other was used, then data recovery becomes much more complicated.

File recovery software
There are many quite working programs that can help out in such a situation. Now let's take a look at a couple of them.
Piriform recuva
One of the most convenient utilities for recovering files, we have also published a post on how to recover deleted photos using this utility.
Its main advantages:
absolutely free;
can work without installation and run from removable media;
friendly and clear interface.
The file recovery process looks like this:
When the program starts, a wizard window will open with recovery options. Press "Next".