The best data recovery programs
Data recovery from a hard drive, flash drives and memory cards is an expensive and, unfortunately, sometimes in demand service. However, in many cases, such as when a hard drive has been accidentally formatted, it is entirely possible to try a free program (or paid product) to recover important data. With a competent approach, this will not entail further complication of the recovery process, and therefore, if you fail, then specialized firms will still be able to help you.
Below are data recovery programs, paid and free, which in most cases, from relatively simple ones, such as deleting files, to more complex ones, such as damaged partition structure and formatting, can help restore photos, documents, videos, and other files, and not only on Windows 10, 8.1 and Windows 7, but also on Android, Linux and Mac OS X. Some of the tools are also available as bootable disk images from which you can boot for the data recovery procedure. If you are interested in free recovery, you can see a separate article 17 free data recovery software, and if you want to recover data on Mac, then: Data recovery in Mac OS. It is also worth considering that when recovering data yourself, you should follow some principles to avoid unpleasant consequences, more about this: Data recovery for beginners. If the information is critical and valuable, it may be more appropriate to turn to professionals in this field.
Recuva is the most famous free software
In my opinion, Recuva is the most popular data recovery program, but not the best – I bring it to the first place of the list only because of its significant popularity. You can download it for free (there is also a paid version on the official website, the difference from the free version is only in technical support). This software allows a novice user to easily recover deleted files (from a flash drive, memory card or hard drive).
In the tests carried out, only those files that were deleted are confidently restored and, at the same time, the flash drive or hard drive was hardly used after that (i.e., the data was not overwritten). If the flash drive was formatted in a different file system, then recovering data from it is already worse. Also, the program will not cope in cases where the computer reports "the disk is not formatted."
Recuva allows you to search for certain types of files – for example, if you need exactly the photos that were on the camera's memory card.
The program is very easy to use (there is a simple recovery wizard, you can also carry out the process manually), in Russian, and both the installer and the Portable version of Recuva are available on the official website. You can read more about the use of the program and its functions as of 2020, as well as download the program here: data recovery with Recuva
PhotoRec
PhotoRec is a free utility that, despite its name, can recover not only photos, but also most other types of files. At the same time, as far as I can judge from experience, the program uses algorithms that differ from the "typical" ones, and therefore the result may turn out to be better (or worse) than other such products. But in my experience, the program copes well with its task of data recovery. It is also one of the few programs that allow you to easily recover files not only from FAT32 and NTFS partitions, but also from Linux ext2/ext3/ext4 partitions.
Free PhotoRec Data Recovery Software
Initially, PhotoRec only ran on a command line interface, which could have been a deterrent for novice users, but since version 7, a GUI (graphical user interface) for PhotoRec has been introduced and the program has become much easier to use.
You can also see the step-by-step recovery process in a graphical interface, you can also download the program for free in the material: Data Recovery in PhotoRec. The same developer has a separate software for recovering deleted or faulty partitions on a disk, about this in the instructions: How to restore disk partitions in TestDisk.
DMDE (DM Disk Editor and Data Recovery Software)
DMDE, in my opinion, is one of the best file recovery tools in case of formatting a disk or USB flash drive, as well as data loss due to file system corruption (for example, when you need to restore a RAW disk). The program in Russian and some functions in it are available completely free of charge for home use. Some others require payment.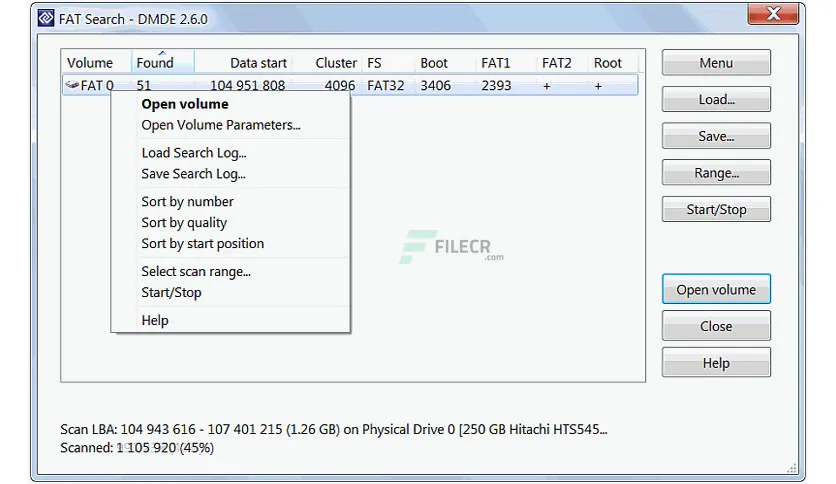 Data recovery in DMDE
This software cannot be called simple for novice users, and therefore I suggest that you read the instructions: Data recovery after formatting in DMDE.
R-studio is one of the best data recovery software
Yes, indeed, if the goal is to recover data from a variety of drives, R-Studio is one of the best programs for this purpose, but it is worth noting that it is paid. Russian interface language is present. The same developer also has a free utility – R-Undelete, which uses the same algorithms, but without restrictions, allows you to recover files only on FAT32 drives.
R-Studio is one of the best data recovery software
So, here is a little about the possibilities of this program:
Data recovery from hard drives, memory cards, flash drives, floppy disks, CDs and DVDs
RAID Recovery (Including RAID 6)
Recovery of damaged hard drives
Restoring Reformatted Partitions
Partition support for Windows (FAT, NTFS), Linux and Mac OS
The ability to work from a boot disk or flash drive (R-studio images are on the official website).
Create recovery disk images and then work with the image instead of the disk.
Thus, we have a professional program that allows you to recover data that was lost for a variety of reasons – formatting, damage, deleting files. And the messages of the operating system that the disk is not formatted are not a hindrance to it, unlike the previously described programs. It is possible to run the program from a bootable flash drive or CD if the operating system does not boot. Learn more about R-Studio and download.